Building Your Resources, Shaping Your Story
Obtaining the ultimate gift of a unified family enterprise is challenging. But that's what makes it rewarding. Look back ten or twenty years. Now look forward ten or twenty years — maybe one hundred years. What is it that you envision? We realize that it takes a blending of all resources to obtain the gift of unity.
There are competing needs in a family enterprise: personal, work and business.
Understanding those needs, and each other, beyond what's "on paper" is critical.
Historically, a large percent of family wealth is lost each time it passes to the next generation and is completely gone by the third passing. Lack of leadership and stewardship training, coupled with trust and communication barriers is the primary reason for this trend.
Solving these family business problems is complex. A family coach can empower those involved to navigate roadblocks in pursuit of a meaningful life, filled with purpose.
Family Wealth Transition
Transition Definition: undergo, or cause to undergo, a process or period of change.
Succession Definition: the act of getting a title; period after the person who possessed the title before you has died or is no longer able, willing, or allowed to possess it.
Our experience with Transition and Succession are that both are important. We believe working through the process of the Generational Transition will be one of the greatest investments you will make. It starts with a focus on family relationships and the vision for the future. What is the Family Wealth Legacy that you would like your children and grandchildren, as well as your community and your soul, to have?
A family's business is typically its most important asset and dominant activity. While central to a family, its company is only one aspect of what a family values most.
The family enterprise concept describes the full scope of activities that families engage in - areas that define and shape them. When families enlarge their lens and take into account all activities in the family enterprise, it allows for more thorough, coordinated strategies and long-term continuity.
Your Resource: WillKate
We are here to guide you in working through a parallel process to blend your resources. Our role is to coach, teach, and facilitate difficult conversations while you develop your structures and grow your resources. Here is a sampling of focus areas we may address throughout the process:
Financial & Estate Plan Reviews
Family Enterprise Office Request More Information
A member of our team will follow-up with you to discuss availability and confirm an appointment time, if necessary.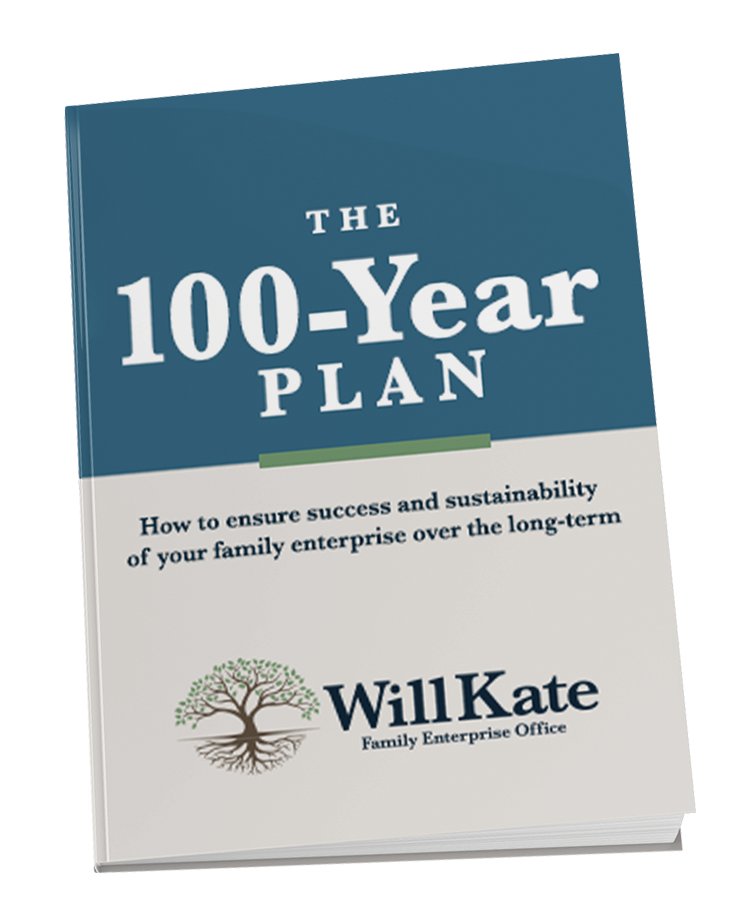 Request Your Free Guide
The 100-Year Plan: How to ensure success and sustainability of your family enterprise over the long-term.
By submitting this form, you agree to receive valuable emails from WillKate. Your privacy is very important to us and we do not share any information with 3rd party sites or affiliate companies. You have the option to opt-out at any time.